Discover the 26 scariest horror books to read in 2019
Like a good horror story? The horror genre has been around for centuries, but it really came into its own during the second half of the 20th century.
Below, we've assembled a list of the 26 best horror books of all time. Scroll down and you'll find a variety of exciting, scary reads, from timeless horror classics to modern reads best known for their film adaptations.
Our guide includes the classic horror stories you've heard of before, and some you will not have. We've also focused on the books that are either considered to be timeless or what can subjectively be deemed the 'best of al time', and books that are new to 2019 (whether an update of a class or otherwise).
Table of Contents:
1. 

The Shining

, by Stephen King
The Shining is widely regarded as Stephen King's horror masterpiece — a chilling story about a young boy whose family is tasked with taking care of the remote Overlook Hotel over the winter season.
As the hotel is cut off from the outside world, it starts to affect the family, turning what should be a routine winter season into a terrifying experience.
Although it's best known as a film, the novel version of The Shining is a fantastic read. If you're a fan of Stephen King, or just a horror enthusiast looking for a chilling read, this book is a tough one to put down.
Learn More:
2. 

The Haunting of Hill House

, by Shirley Jackson
First published in 1959, The Haunting of Hill House was one of the first gothic horror novels. It follows four characters as they investigate Hill House, a mansion that's widely rumoured to be a major location for the supernatural.
Over the course of their investigation, the inhabitants experience a series of strange events in the house, making some of them question their sense of reality.
A major inspiration for other horror authors, The Haunting of Hill House is a classic horror novel that inspired authors like Stephen King. Despite its age, the story doesn't feel dated, making this a great read if you're a fan of timeless horror stories. You've no doubt also seen the Netflix adaptation, an incredibly dark and jumpy take on what is also a dark and jumpy book! 
Learn More:
3. 

House Of Leaves

, by Mark Z. Danielewski
Equal parts love story and modern horror classic, House of Leaves is an ergodic novel written by Mark Z. Danielewski. The novel incorporates several narratives, from LA tattoo artist Johnny Truant to Zampanò, the deceased owner of an LA apartment.
The book takes twists and turns exploring themes of sanity, personal horror, and an almost Truman Show style of questioning the reality around us; all within the confines of walls (which you'll never look at the same again after finishing this masterpiece).
House of Leaves isn't an easy book to read — with multiple narratives, the novel uses different fonts to let you know who is talking at any one time. Despite this, it's a rewarding book that's a fun read if you're a fan of modern horror stories.
Learn More:
4. 

It

, by Stephen King
Stephen King's classic story of children in Derry, Maine investigating an evil force lurking in the city's sewers was recently turned into a hit movie, but it's the original It novel that's the best way to experience this iconic horror tale.
IT is split into two sections. The first explores how the adults of the story deal with the realisation that 'IT' has returned, and the pending feeling of dread for the ensuing chaos that will follow. The second half sets the scene for their childhood and first encounters of IT, and how these integral parts of their lives intertwine.
One of Stephen King's most famous stories, It is a monster read, clocking in at more than 1,000 pages in total. Despite its length, the story never feels overly long, with countless iconic scenes and imaginative moments to keep you gripped and engaged.
Learn More:
5. 

Dracula and Other Horror Classics

, by Bram Stoker
These days, Dracula is an iconic horror character, portrayed by countless people in cinema and live action TV. However, it's the original Bram Stoker Dracula that best puts this iconic vampire into fiction.
Dracula was first published in 1897, making it one of the oldest horror novels on our list. Dracula was reportedly inspired by Vlad the Impaler, who was known as "Vlad Dracula" in Romanian.
Although it wasn't a bestseller when it was first released, the original 19th century Dracula has grown into one of the most important horror novels of all time. Despite its age, it's still a gripping, thrilling story that's packed with exciting moments and interesting historical references.
The book is still as riveting as ever, and you'll be utterly absorbed in the classical prose, the plot and the way Bram Stoker tells a horror story.
Learn More:
6. 

Interview With The Vampire

, by Anne Rice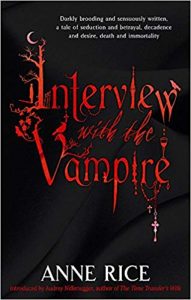 Another classic vampire novel, Interview With The Vampire was published in 1976 and quickly became one of the year's top horror novels.
The story revolves around Louis, a 200-year-old vampire who describes his life to a reporter. As the novel unfolds, Louis reveals the pain and suffering he's witness and participated in over his life, with his travels spanning Europe and the United States.
A classic of modern horror fiction, Interview With The Vampire is the first novel in the Vampire Chronicles series. It's also arguably the best, with a tense atmosphere that's unmatched in the sequels.
Learn More:
7. 

Misery

, by Stephen King
Famous author Paul Sheldon has just survived a car crash — rescued by a good samaritan who witnessed the wreck. There's only one problem — the rescuer, who describes herself as his "#1 fan," has kidnapped him and forced him to write a new novel to her specifications.
Misery is one of Stephen King's most iconic novels. Published in 1987, the novel was regarded as a reaction to The Eyes of the Dragon, King's previous novel, which earned negative reviews from his horror-accustomed fans.
While Misery might not be quite as well known as The Shining or It, it's one of King's best works and a must-read for fans of psychological horror. You'll also become very wary about travelling in the snow… 
Learn More:
8. 

Pet Sematary

, by Stephen King
Another 1980s horror novel from Stephen King, Pet Sematary follows Louis Creed, a Chicago doctor, and his family as they move from their home to the University of Maine to take up a new position in the campus's health service.
As the family settles in to their new location, a series of unusual, unfortunate and tragic events causes them to consider whether or not they're being targeted by other people.
Like King's other horror novels, Pet Sematary is tense, exciting and terrifying, with a variety of memorable scenes. If you're a fan of classic horror, you'll find a lot to like about this short, fun novel. As with many Stephen King novels, parts of the story are shocking, but are ultimately done to benefit the narrative and not deliver a scare for the sake of it. 
This book is easily in our top ten Stephen King book choices, along with IT and The Shining which also happen to be on this horror book guide! 
You can also take a look at the trailer for the 2019 remake of the classic Pet Sematary film here. 
Learn More:
9. 

Carrie

, by Stephen King
One of many Stephen King novels on our list (he is known as the "Master of Horror" for good reason), Carrie is about Carrie White, a 16-year-old girl from a small town in Maine with vast, powerful telekinetic powers.
King's first novel, Carrie is a modern horror classic. While it's less lengthy and detailed than his later works (the entire novel is just under 200 pages), its fast-paced narrative makes this one of King's best novels and a great introduction to the author's work.  
Carrie is what King's publishers warned him would earn him the title of a horror writer, of which King is happy to be typecast. And, let's be thankful this occurred… A Stephen King writing romance novels just doesn't seem to cut it!
Learn More:
10. 

Let the Right One In

, by John Ajvide Lindqvist
Oskar, a 12-year-old boy from Stockholm, lives a normal life with his mother. His father, on the other hand, is a troubled alcoholic with whom he has little contact. A victim of bullying, Oscar is fascinated by crime, particularly murders documented in the local newspapers.
One of the best vampire novels of the 21st century, Let the Right One In is an exciting read that gets better with every page. The novel covers a broad range of themes, from murder to divorce and its effects on the social development of young children.
At 480 pages, Let the Right One In is a great mid-length horror novel that's perfect for fans of classic vampire stories and modern horror alike.
Learn More:
11. 

We Need To Talk About Kevin

, by Lionel Shriver
Troubled 15-year-old Kevin has just done something horrible, massacring nine of his classmates and teachers at his high school. Eva Khatchadourian, his mother, writes a series of letters to her husband and Kevin's father, Franklin, in the wake of the massacre.
We Need to Talk About Kevin is a chilling read that explores the relationship of the two parents as their son becomes more and more violent and dangerous. As it goes on, the book expands on the factors that may have affected Kevin, from his innate nature to his experiences.
Adapted into a film in 2011, We Need to Talk About Kevin is an interesting read with a unique premise. If you're a fan of unconventional horror stories, you'll find lots to like about this smart, engaging novel.
Learn More:
12. 

The Woman In Black

, by Susan Hill
Set in a small English town, The Woman in Black follows Arthur Kipps, a retired solicitor who experienced a terrifying experience in his past. After telling ghost stories with his stepchildren, Kipps becomes upset and starts writing down his troubling prior experiences.
A classic gothic horror story, The Woman in Black was published in 1983. The story follows the mysterious Woman in Black as she appears in and out of a small English town, with a series of unusual events seemingly following her every move.
You may have also seen the feature length film, which was just as bleak and scary as parts of the book tend to be.
Learn More:
13. 

Ghost Story

, by Peter Straub
Set in a small town in New York, Ghost Story is told by the Chowder Society, a group of five men who schedule regular gatherings to share ghost stories with each other. After one man dies, the remaining members of the group experience terrifying dreams of their own deaths.
Although Ghost Story starts fairly slowly, it evolves into a terrifying story concerning the mens' pasts. Consistently ranked as one of the top horror novels of the 20th century (even Stephen King is a fan), Ghost Story is a great read for fans of classic horror.
Learn More:
14. 

Beloved

, by Toni Morrison
Beloved follows Sethe, an African American Civil War-era slave who escapes from slavery in Kentucky with her teenage daughter. The story begins after their escape and finds them stuck in their Cincinnati home, haunted by a revenant.
As her former colleagues attempt to get rid of the revenant, Sethe shares several details about her escape, revealing a potential source for the spirit that's haunting their home.
Toni Morrison's most acclaimed novel, Beloved was a late-80s classic when it was released. It's an engaging, interesting read that touches on a variety of different themes, from the impact that slavery can have on a person's mental state to the mother-daughter bond.
Learn More:
15. Bird Box, by Josh Malerman
Although it's best known as the extremely popular Netflix thriller, Bird Box was first a novel. This post-apocalyptic horror story came out in 2014 as the debut novel of Josh Malerman. The story follows Malorie and her children as they escape their home wearing protective blindfolds.
The story of Bird Box takes place in three different periods, following the family as they escape to a windowless refuge. If you're a fan of the film, or you just like post-apocalyptic horror, you'll find plenty to enjoy in this tense, fast-paced story.
Learn More:
16. 

Blood Meridian

, by Cormac McCarthy
Published in 1985, Blood Meridian combines a classic Western setting with elements of horror as it follows a teenager — referred to in the novel as only "the kid" — as he travels alongside a gang of scalp hunters.
Although it only received moderate reviews when it first came out, Blood Meridian has since been included on countless "best books of the 20th century" lists.
Set in the mid-19th century, Blood Meridian is an engaging novel that covers the Southwestern United States and Mexico. Known as Cormac McCarthy's best work, it's a great read for fans of Western settings and historical horror fiction.
Learn More:
17. 

Lord of the Flies

, by William Golding
After crashing on an uninhabited island, a group of schoolboys are forced to survive in difficult, inhospitable territory. Over time, the group transforms from an orderly group focused on group survival into a disorganised, paranoid bunch of people bent on individual survival.
One of the best-known books of the 20th century, Lord of the Flies was published in 1954 and quickly became a favourite amongst young adult readers. Although it includes some elements of horror, this is a timeless, multi-genre book that's worth reading even if you're not a horror fan.
Almost as scary as Fyre Festival, which many attendees noted had spooky similarities to this classic horror book! 
Learn More:
18. 

The Ruins

, by Scott Smith
After befriending a German tourist, a group of four American tourists vacationing in Mexico go on a trip to the remote Yucatan. Despite a warning from their guide, the tourists travel into the remote area, making their way deeper into the jungle.
After one member of the group gets lost down a mineshaft, the group is forced to rescue him, all while dealing with an even more deadly threat.
With its remote setting and exciting storyline, The Ruins is an engaging read that combines the classics of the horror genre with wilderness survival. First published in 2006, it was adapted into a popular horror film in 2008.
Learn More:
19. 

The Tell-Tale Heart and Other Tales

, by Edgar Allan Poe
A collection of short stories, The Tell-Tale Heart and Other Tales includes Edgar Allan Poe's classic The Tell-Tale Heart. This short horror story involves a murder and cover-up, with the ensuing investigation affecting the narrator's sanity.
This collection also includes several other short stories, among them some of the best gothic horror works of the 19th century. With illustrations from Harry Clarke, this is a fantastic read for fans of classic horror and mystery stories.
Learn More:
20. 

The Raven: A Pop-up Book

, by Edgar Allan Poe
A short narrative poem, The Raven follows the story of a talking raven visiting a distraught man mourning the loss of his lover. Made up of 18 stanzas, each six lines each, the story is short and fairly easy to follow, even for young readers.
First published in 1845, The Raven has been analysed in great detail since it first appeared over 150 years ago. As a pop-up book, this version of the story includes a series of illustrations from Christopher Wormell, all of which add to the appeal of this classic tale.
We've included the pop up book because this guide isn't just about scaring yourself senseless in 2019. The Raven becomes interactive in this version, and provides a great opportunity to introduce younger readers to the masterful storytelling of Edgar Allan Poe.
Learn More:
21. 

The Stand

, by Stephen King
Another classic from Stephen King's early career, The Stand combines King's incredible flair for horror with a post-apocalyptic setting. Set shortly after the accidental release of a deadly virus, The Stand covers the desperate actions of survivors in three different time periods.
Over the years, The Stand has been featured in numerous "best of" lists, including the 2003 BBC Big Read poll.
Like other Stephen King novels, The Stand combines situational horror with conventional horror tropes, such as supernatural evil. Tense, exciting and engaging, this is a great read for fans of horror, post-apocalyptic thrillers and fantasy.
Learn More:
22. 

The Call of Cthulhu and Other Weird Stories

, by H.P. Lovecraft
First published in 1928 as a pulp story, The Call of Cthulhu follows Francis Wayland Thurston as he investigates a series of notes left behind by his granduncle. The notes describe a sculpture — a creation of Henry Anthony Wilcox, that draws Thurston into a global journey for answers.
Although Lovecraft regarded The Call of Cthulhu as a "middling" story, it's grown into one of the most significant horror works of the 20th century. This edition includes a variety of other stories from Lovecraft, such as "The Rats in the Walls" and "The Outsider."
Learn More:
23. 

Rosemary's Baby

, by Ira Levin
Rosemary Woodhouse and her husband have just moved into an impressive New York City apartment building with an unusual history. After discovering a secret about their neighbours, Rosemary — now pregnant — becomes concerned about the safety of herself and her child.
Packed with twists and chilling moments, Rosemary's Baby was one of the first truly modern horror stories.
Published in the late 1960s, Rosemary's Baby launched a boom in horror novels, particularly novels concerning the supernatural. Tense, terrifying and unique, Rosemary's Baby is a great read for fans of modern horror or people who enjoyed the equally brilliant Mia Farrow film.  
Learn More:
24. 

Doctor Strange: Damnation – The Complete Collection

, by Donny Cates
The only comic book on our list, Doctor Strange: Damnation is a thrilling read. Published at the beginning of 2018 as a four-part series, Damnation sees Doctor Strange resurrect the victims of a deadly attack on Las Vegas.
Although it's not strictly horror, Damnation includes countless elements from classic and modern horror stories. With illustrations from Rod Reis, this edition of Damnation includes the complete story, with all four monthly issues collected into a single release.
Learn More:
25. 

American Psycho

, by Bret Easton Ellis
At first glance, investment banker Patrick Bateman is the picture of young success — only just in his mid-20s, he's a successful executive at a major New York bank. However, outside his glitzy job, Bateman is a brutal serial killer who targets everyone from the homeless to his colleagues.
Published in 1991, American Psycho is set during the peak of the 1980s boom economy, with Bateman both a stereotypical yuppie and a terrifying villain. Although it's best known today due to the 2000 film adaptation, the novel is the best way to experience this thrilling horror story.
The book is incredibly blatant about its message, with scathing jabs at the economic elite that govern the city, and the seemingly omnipotent power they yield. Also if you're a fan of Hughey Lewis and the news, you'll love the extensive album review…
Learn More:
Our Runner Up
26. 

Scary Stories To Tell In The Dark

, by Alvin Schwartz
Another classic set of tales set to grace the big screen, Scary Stories to Tell in the Dark is now a series of books in collaboration with famed illustrators, blending horror, humour, and artistic dexterity to deliver a terrifying literary experience. This first edition is where it all started, with illustrations by Brett Helquist of A Series of Unfortunate Events fame.
Be advised, these tales may be marketed as if they're for children, but we've read them and they're much more than that. Seriously, you'll be leaving the light on after delving into these spooky tales!
Learn More:
Frequently Asked Questions
Why do we read scary books?
Reading scary books allows us to explore our fears, safely. Much like watching a horror film, there's often a rush that comes with reading scary stories in the dark!
Are horror and thriller the same genre?
In a word, no. Horror focuses much more on the scarier aspects of literature, intending to frighten from the outset. Thriller is much more concerned with crime, solving cases and thriller books are largely concerned with the thrill of the chase and an ongoing pursuit. Learn more about the thriller books to read this year via our extensive thriller book buyers guide.
Liked this post? Be sure to check out our guide to the best thriller books and our best typewriters guide for budding horror writers!
Are these book scarier than their film counterparts?
You're no doubt coming into this list fresh off the back of many recent horror releases based on books, whether fiction or otherwise. With the recent rise in horror and serial killer biopics, many people are waking up to the world of both new and old horror. Lovers of books will always argue that they are certainly scarier than their film counterparts, because it's simply so easy to become immersed into a book.
Whereas, with a film, it's very hard to show or convey that which is included in a book. They try their best, but often fall slightly short.
Conclusion
Horror, like any book genre, is incredibly subjective. What you may find scary as a reader, others may not. We recommend choosing a few of the books off this list from different eras so you can get easily find the type of horror that appeals to you.
Whether that's psychological horror, fantasy and futuristic horror, or simply a classic ghost story… You be the judge of what makes you scared! Happy reading folks.